Sketching on Clay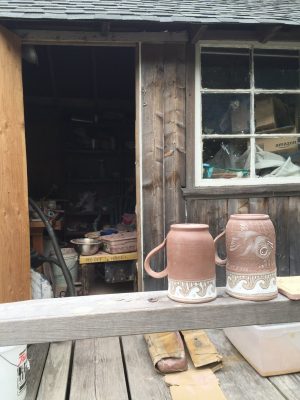 This spring, I discovered the open studio hours at Featherstone Center for the Arts on Martha's Vineyard. Three days a week, their ceramic studio is open to the public for an hourly fee and the cost of materials.  It had been nearly 17 years since I worked in clay, and I decided to go and throw some pots to see how it felt.
What I discovered was a wonderful community of supportive people who all love to work with clay, and I rediscovered how addictive throwing pots can be.
After several months attending the open studio hours, my sister and her husband offered me a shed in their back yard to set up my wheel, which I pulled out of storage with all my tools. What this means is that I can spend several hours a day playing with pottery.
Long story short –  for now, my daily sketches are being done on clay. It is not unlike collaging, as there are many different layers involved in the process.
I'm experimenting with different slips (clay that I've added water to, to make it liquid). I paint the slips on the pots before they are dry, and then carve through them to create designs. I can then go back in with commercial underglazes (similar to slips) to add highlights of color. It is very tactile, and quite a contrast from drawing digitally.
I transport the pieces to Featherstone to fire them. Featherstone fires to cone 5, and their default clay body is a rather light stoneware. I started with their clay, and although I like the muted colors, I wanted more contrast, so I ordered some darker clay that I am now working with.