I am challenging myself to make the time to do something creative every day. I started this quest in 2012 by drawing a digital sketch every evening. I have now branched into mixed media and clay and my goal is to explore without judgement and to push my creative boundaries. Thank you for sharing this journey with me.
Daily Sketches / Digital Works
Block Prints, Sketch Book Pages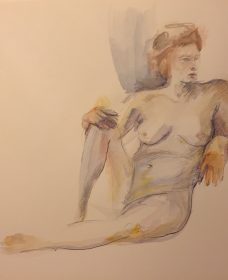 I've been enjoying figure drawing at Featherstone Center for the Arts this fall.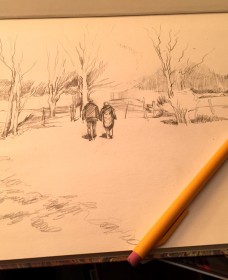 Quick pencil sketch of my parents walking in the late afternoon.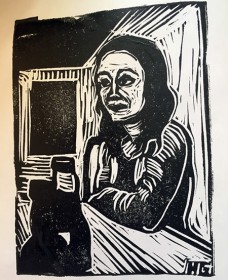 I met friends to go dancing last night at a fundraiser for SailMV. A lovely young lady agreed to let me snap a photo of her with my phone to carve from. My carving does not do her justice, to say the least. This block print from several nights ago is my attempt at an […]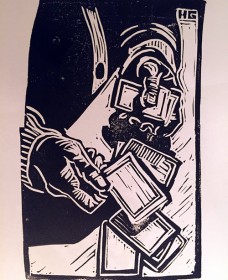 I wanted a small tea kettle to use as an accent and on envelopes – so I carved a 2 x 2.5 inch one, with rather lumpy results. My second carving was inspired by a game of cribbage.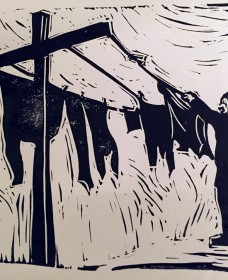 This evening I carved two prints inspired by my mom, walking the dogs with me, and hanging out her laundry.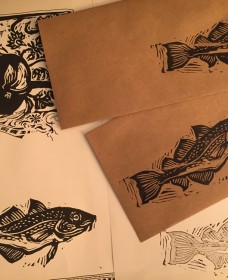 I wanted a fish to go on envelopes, and with the cat I'd carved.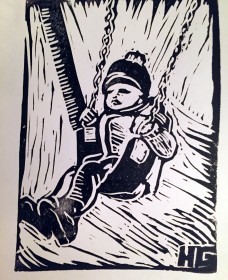 I miss my granddaughter – this is inspired by her.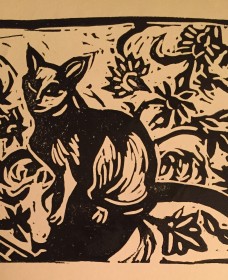 My sister's cat, on her oriental carpet.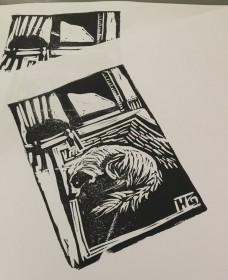 Block print of my parents' dog, Charlotte.