Heather Goff's digital drawings are available for purchase as very limited edition (editions of 12)  archival prints.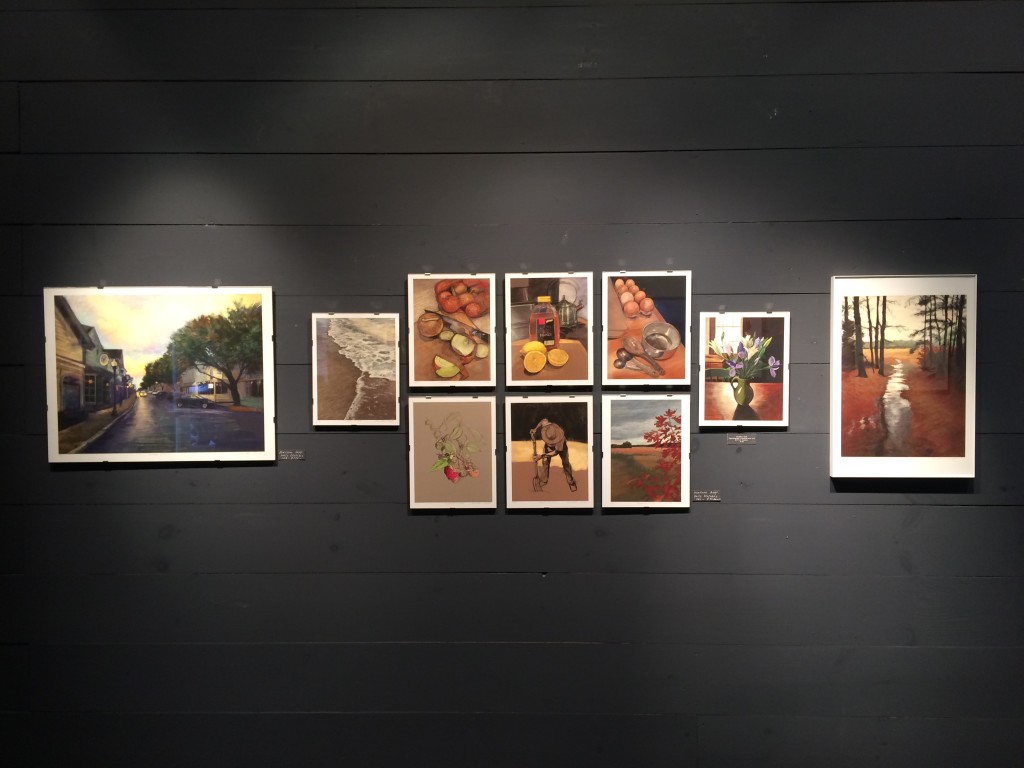 They are printed on Epson's hot press natural archival, acid free paper (a beautiful, thick paper!) with Epson archival Ultrachrome pigment inks, and are signed and numbered by Heather.
Prices for unframed prints:
8.5 x 11 $90
13 x 19 inch $180
22 x 17 inch $225
Drawings are not available in all sizes.
FOOD/KITCHEN SKETCHES

 
Daily Sketch 4/7/2012
Edition Size: 12
Paper Size: 13 x 19 inches


Daily Sketch  5/5/2012
Edition Size: 12
Paper Size: 8.5 x 11 inches

 
Daily Sketch  8/29/2012
Edition Size: 12
Paper Size: 8.5 x 11 inches


Daily Sketch  11/28/2012
Edition Size: 12
Paper Size: 8.5 x 11 inches


Daily Sketch  11/29/2012
Edition Size: 12
Paper Size: 8.5 x 11 inches


Daily Sketch  12/18/2012
Edition Size: 12
Paper Size: 8.5 x 11 inches

 

Daily Sketch 3/18/2013
Edition Size: 12
Paper Size: 8.5 x 11 inches

 
Daily Sketch  3/21/2013
Edition Size: 12
Paper Size: 8.5 x 11 inches
 
Daily Sketch  4/2/2013
Edition Size: 12
Paper Size: 8.5 x 11 inches
 
Daily Sketch  4/20/2013
Edition Size: 12
Paper Size: 8.5 x 11 inches
 
Daily Sketch  4/28/2013
Edition Size: 12
Paper Size: 8.5 x 11 inches


Daily Sketch  9/10/2014
Edition Size: 12
Paper Size: 8.5 x 11 inches


Daily Sketch   9/23/2014
Edition Size: 12
Paper Size: 8.5 x 11 inches

Daily Sketch   11/23/2014
Edition Size: 12
Paper Size: 8.5 x 11 inches
 
Daily Sketch   5/26/2015
Edition Size: 12
Paper Size: 17 x 22 inches

Daily Sketch 5/26/2015
Edition Size: 12
Paper Size: 8.5 x 11 inches
 
Daily Sketch 2/04/2015
Edition Size: 12
Paper Size: 11 x 8.5 inches

Daily Sketch 2/04/2015
Edition Size: 12
Paper Size: 22 x 17 inches

 STILL LIFE


Daily Sketch 9/16/2012
Edition Size: 12
Paper Size: 8.5 x 11 inches


Daily Sketch 1/27/2013
Edition Size: 12
Paper Size: 8.5 x 11 inches

Daily Sketch 1/27/2013
Edition Size: 12
Paper Size: 13 x 19 inches

 
Daily Sketch 3/14/2013
Edition Size: 12
Paper Size: 8.5 x 11 inches

Daily Sketch 9/19/2014
Edition Size: 12
Paper Size: 8.5 x 11 inches

Daily Sketch 10/01/2014
Edition Size: 12
Paper Size: 8.5 x 11 inches

Daily Sketch 10/01/2014

Edition Size: 12
Paper Size: 17 x 22 inches


Daily Sketch 11/30/2014

Edition Size: 12
Paper Size: 8.5 x 11 inches


Daily Sketch 06/02/2014

Edition Size: 12
Paper Size: 8.5 x 11 inches

DRAWINGS OF LANDSCAPES

Daily Sketch 9/7/2012
Edition Size: 12
Paper Size: 8.5 x 11 inches


Daily Sketch 9/22/2012
Edition Size: 12
Paper Size: 8.5 x 11 inches

Daily Sketch 9/22/2012
Edition Size: 12
Paper Size: 13 x 19 inches

Daily Sketch 10/3/2012
Edition Size: 12
Paper Size: 8.5 x 11 inches

Daily Sketch 10/20/2012
Edition Size: 12
Paper Size: 8.5 x 11 inches


Daily Sketch 10/27/2012
Edition Size: 12
Paper Size: 11 x 8.5 inches

Daily Sketch 10/27/2012
Edition Size: 12
Paper Size: 13 x 19 inches

Daily Sketch 11/18/2012
Edition Size: 12
Paper Size: 8.5 x 11 inches

Daily Sketch 11/18/2012
Edition Size: 12
Paper Size: 22 x 17 inches

Daily Sketch 12/13/2012
Edition Size: 12
Paper Size: 8 x 8

Daily Sketch 01/16/2013
Edition Size: 12
Paper Size: 8.5 x 11 inches

Daily Sketch 01/16/2013
Edition Size: 12
Paper Size: 13 x 19 inches

Daily Sketch 01/21/2013
Edition Size: 12
Paper Size: 8.5 x 11 inches

Daily Sketch 01/21/2013
Edition Size: 12
Paper Size: 13 x 19 inches


Daily Sketch 01/23/2013
Edition Size: 12
Paper Size: 13 x 19 inches

Daily Sketch 02/21/2013
Edition Size: 12
Paper Size: 8.5 x 11 inches

Daily Sketch 02/21/2013
Edition Size: 12
Paper Size: 13 x 19 inches

Daily Sketch 02/25/2013
Edition Size: 12
Paper Size: 8.5 x 11 inches

Daily Sketch 03/20/2013
Edition Size: 12
Paper Size: 13 x 19 inches

Daily Sketch 04/22/2013
Edition Size: 12
Paper Size: 19 x 13 inches

Daily Sketch 07/19/2014
Edition Size: 12
Paper Size: 8.5 x 11 inches

Daily Sketch 07/19/2014
Edition Size: 12
Paper Size: 17 x 22 inches

Daily Sketch 09/24/2014
Edition Size: 12
Paper Size: 8.5 x 11 inches


Daily Sketch 09/26/2014
Edition Size: 12
Paper Size: 8.5 x 11 inches

Daily Sketch 09/29/2014
Edition Size: 12
Paper Size: 8.5 x 11 inches


Daily Sketch 09/29/2014
Edition Size: 12
Paper Size: 13 x 19 inches

Daily Sketch 10/10/2014
Edition Size: 12
Paper Size: 8.5 x 11 inches

Daily Sketch 10/10/2014
Edition Size: 12
Paper Size: 22 x 17 inches

Daily Sketch 10/13/2014
Edition Size: 12
Paper Size: 8.5 x 11 inches


Daily Sketch 10/13/2014
Edition Size: 12
Paper Size: 22 x 17 inches

Daily Sketch 10/23/2014
Edition Size: 12
Paper Size: 8.5 x 11 inches

Daily Sketch 10/23/2014
Edition Size: 12
Paper Size: 22 x 17 inches

Daily Sketch 11/09/2014
Edition Size: 12
Paper Size: 13 x 19 inches


Daily Sketch 11/18/2014
Edition Size: 12
Paper Size: 22 x 17 inches

 
Daily Sketch 11/19/2014
Edition Size: 12
Paper Size: 11 x 8.5 inches

Daily Sketch 12/05/2014
Edition Size: 12
Paper Size: 11 x 8.5 inches


Daily Sketch 12/03/2014
Edition Size: 12
Paper Size: 11 x 8.5 inches


Daily Sketch 12/09/2014
Edition Size: 12
Paper Size: 11 x 8.5 inches
 
Daily Sketch 12/09/2014
Edition Size: 12
Paper Size: 13 x 19 inches


Daily Sketch 12/09/2014
Edition Size: 12
Paper Size: 22 x 17 inches


Daily Sketch 12/21/2014
Edition Size: 12
Paper Size: 11 x 8.5 inches
 
Daily Sketch 12/21/2014
Edition Size: 12
Paper Size: 11 x 8.5 inches


Daily Sketch 12/31/2014
Edition Size: 12
Paper Size: 8.5 x 11 inches


Daily Sketch 1/23/2015
Edition Size: 12
Paper Size: 11 x 8.5 inches

Daily Sketch 6/09/2015
Edition Size: 12
Paper Size: 11 x 8.5 inches
 
Daily Sketch 6/09/2015
Edition Size: 12
Paper Size: 22 x 17 inches
 
Daily Sketch 2/18/2013
Edition Size: 12
Paper Size: 11 x 8.5 inches
 
Daily Sketch 2/18/2013
Edition Size: 12
Paper Size: 19 x 13 inches

DRAWINGS OF PEOPLE


Daily Sketch 07/01/2012
Edition Size: 12
Paper Size: 8 x 8 inches

Daily Sketch 08/02/2013
Edition Size: 12
Paper Size: 8.5 x 11 inches

Daily Sketch 08/30/2014
Edition Size: 12
Paper Size: 8.5 x 11 inches


Daily Sketch 09/30/2014
Edition Size: 12
Paper Size: 8.5 x 11 inches

BIRD SKETCHES

 

Daily Sketch 03/03/2013
Edition Size: 12
Paper Size: 8.5 x 11 inches


Daily Sketch 01/30/2013
Edition Size: 12
Paper Size: 8.5 x 11 inches

Daily Sketch 01/30/2013
Edition Size: 12
Paper Size: 13 x 19 inches

 
Daily Sketch 12/12/20134
Edition Size: 12
Paper Size: 8.5 x 11 inches
 
Daily Sketch 12/12/20134
Edition Size: 12
Paper Size: 22 x 17 inches

DOGS


Daily Sketch 09/09/2013
Edition Size: 12
Paper Size: 22 x 17 inches