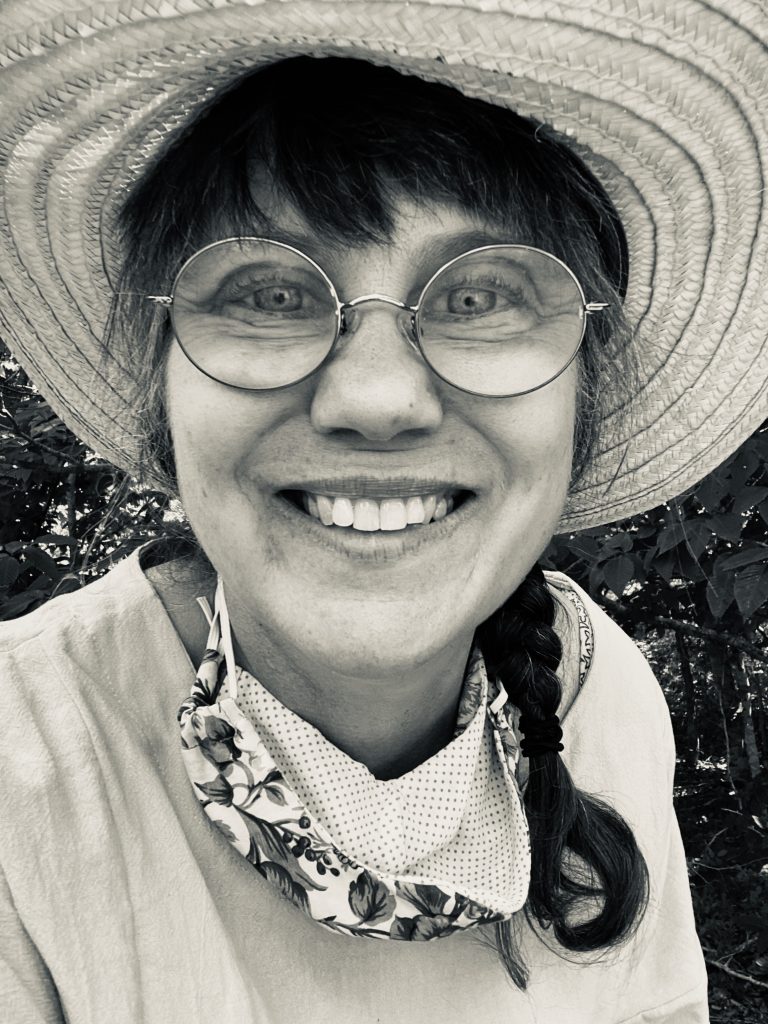 I live in Chilmark, MA on the island of Martha's Vineyard. I have a small house with a big studio and strive to lead a creative life.
About the Daily Digital Drawing Project started in 2012.
I first created this website when I started the daily discipline of doing one digital drawing a day. The practice lasted for several years – although some drawings spanned several days.
Here is my statement about the daily digital drawing project:
After a day of work and family chores, I am trying to do a drawing, just for me.
Why try to do a drawing a day?
Do you know when you're traveling with your children, you stop every few moments to count heads and make sure everyone is still accounted for?
I realized the end of January 2012 that I had completely misplaced one of my passions. Sometime in the past two decades, I stopped paying attention to my love of drawing.
I decided the beginning of February 2012 to start doing one sketch a day, at the end of the day, after my day job work and family chores are done.
The ritual of drawing every evening has become a balm, a meditation, a way for me to process the day and massage something deep inside myself.
Because I work full time as a website programmer and designer, when I decided to draw again, I turned first to my computer. Although my visual art training was with a paintbrush on canvas and pencil to sketch book, the years of digital immersion made drawing digitally an easier step than having to set up a new creative space in the home and purchase lots of new supplies. I already had a powerful computer, large monitors, a pressure sensitive tablet and stylus. In order to stick to my commitment of drawing every day, it had to be as easy as possible, physically, to do it. I draw on the computer with the help of a wacom intuos tablet and Painter15 software.
I did stop the project after 15 months, but resumed it again in September of 2014. I try to draw every day, but since I draw usually after 8:00pm, some nights it just isn't possible.
The spring of 2015, I switched from digital work to physical materials and started exploring the world of mixed media.
Resume
Education and Honors

Bachelor of Fine Arts in Visual Design/Ceramics
The University of Massachusetts in Dartmouth, North Dartmouth, MA 1991-1993
Suma Cum Laude, Chancellor's List
The Cleveland Institute of Art, Cleveland, Ohio, 1987-1988
Studio Art Centers International, Florence, Italy, 1983 and 1987
The 1987 Gillian Award Scholarship
New York University in France, Paris, France, 1984
Oberlin College, Oberlin, Ohio, 1984 (study in Tours France), 1983 – 1984 (on campus)

Professional Experience / Internet

Sole Proprietor, Goffgrafix Web Development, 1997 – present.
Member of the University of Massachusetts Dartmouth Internet Development Team, September 1999 – April 2000 part time
Full time graphic web design and programming for International Compliance Systems, Inc., April 2000 – April 2001
Member of Katewood Group Web Site Development Team, March 2001 – 2003 part time
Lead Web Designer for Martha's Vineyard Online (mvol.com), September 2001 – 2003

Professional Experience / Visual Design

Assistant Ceramic Professor, Studio Art Centers International, Florence 1984 .
Installation Artist, Area Night Club, New York City, 1986
Ceramist, Illustrator 1985-1999
Sole Proprietor, Folk Tiles, a decorative tile manufacturing company, 1993-2000

Lectures and Seminars Given

Creating A Successful Web Presence, Part of a 3 woman panel, The Martha's Vineyard Women's Network (2011)
The University of Massachusetts in Dartmouth, Alumni Lecture Series (1998)
The Wareham High School, Wareham, MA, Workshop in Tile Making for Students (1998)
The University of Massachusetts in Dartmouth, Workshop in Tile Making for Ceramic Undergraduates (1997)

Exhibitions for Clay and Painting / Solo

The Vineyard Playhouse, Vineyard Haven, MA (2017)
The A Gallery, Oak Bluffs, MA (2014)
The Field Gallery, West Tisbury, MA (1994,1995,1996,1998)
The Wrenn Gallery, Vineyard Haven, MA (1990)
The Goff's Gallery, North Tisbury, MA (1985)

Exhibitions for Clay and Painting / Group

The Society of Arts and Crafts, Boston, MA (1995, 1996, 1997)
The Ferrin Gallery, Northhampton, MA (1989,1993, 1995)
The Field Gallery, West Tisbury, MA (1992, 1993)
The Wooden Tent Gallery, Vineyard Haven, MA (1993)
Studio 244, University of Massachusetts Dartmouth Gallery, (1993)
Barrows Tea Company, New Bedford, MA (1992)
The Artist's Cooperative, Vineyard Haven, MA (1991)
The Wrenn Gallery, Vineyard Haven, MA (1990)
Starr Gallery, Newton, MA (1990)
The Neo Persona Gallery, New York City (1986, 1990)
The Clay Pot, Park Slope, Brooklyn, NY (1990)
Civilization Gallery, New York City (1987)
The Strozzi Palace, Florence, Italy (1985)